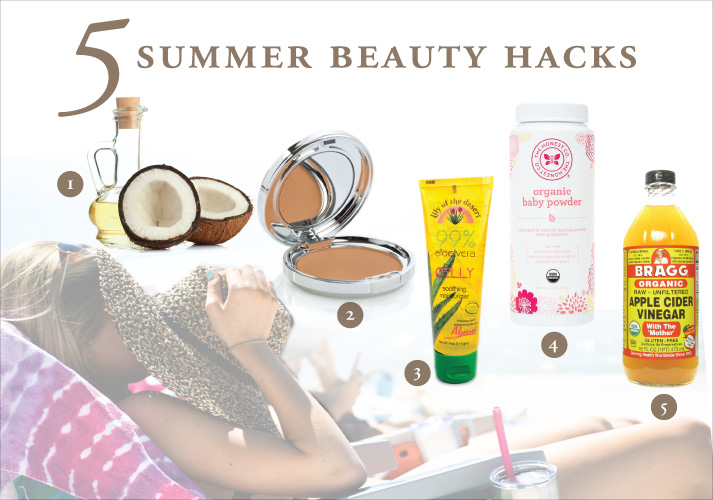 Summer is all about beach trips, vacations, pool parties, and having fun with friends and family. While it is one of our favorite seasons, the hot weather does cause a few mishaps that may prevent us from looking picture-perfect 24/7. Consider adding these tricks to your beauty regime:
1. Apply coconut oil after shaving.
Coconut oil is great for just about anything. If your skin dries up or produces rashes after shaving, apply a generous amount of a product like Spectrum Organic Coconut Oil over the area for moisturizing and calming effects.
2. Use self tanner and bronzer instead of burning in the sun.
You don't need to spend hours in the sun to get a summer glow. Use a healthy option like True Natural Organic Self Tanner and your tan will be visible after 3-4 hours and lasts for a week! To get an additional sun-kissed looked, apply L'eclisse Pressed Mineral Foundation in Deep Bronze as a bronzer for round the clock glow.
3. Treat sun burns with aloe vera ice cubes.
Sometimes sunscreen just doesn't protect you from sun burns. What you'll need: Lily of the Desert Aloe Vera Gel + an empty ice cube tray. The night before a trip outdoors, squeeze aloe vera gel into ice cube tray and freeze overnight. Whenever you have a sunburn, there will always be a sunburn remedy in your freezer!
4. Use baby powder to remove sticky sand.
Pack a bottle of organic baby powder from the Honest Company in your bag. When you get back to your car or before stepping inside your house, shake baby powder onto your hands. Apply the powder like you would lotion over areas where you are covered in sand.
5. Spritz apple cider vinegar into hair to maintain hair color.
Salt water, especially for blondes, is awful for your hair color. To prevent ruining your beautiful (and expensive) color treatments, fill a spray bottle with Bragg's Apple Cider Vinegar and spray all over your scalp. Use a wide tooth comb and brush your hair from top to the ends to spread out the vinegar.