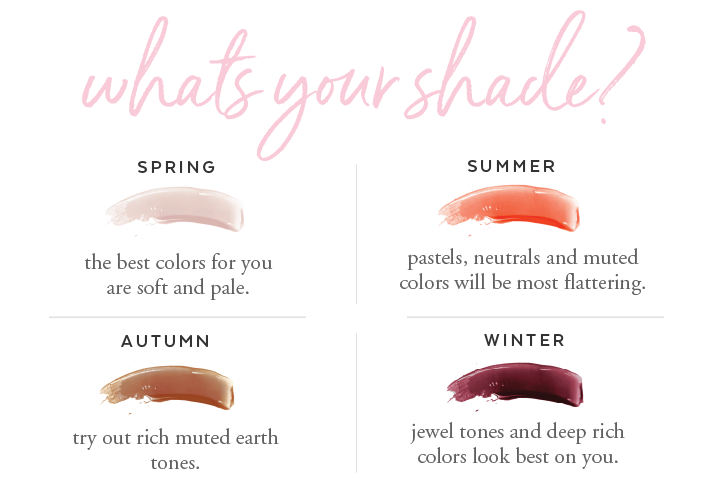 What's your seasonal skin tone? Knowing this piece of beauty knowledge about yourself can help when selecting clothes to look your best and purchasing makeup to flaunt what you've got.  It's easy to find out whether you're a winter, spring, fall, or summer. Here's how the pros break it down.
Winters have dark hair and eyes with a cool skin tone.
Springs have lighter hair and a warm skin tone. Think blondes, redheads, and those with very light brown hair.
Summers have light hair and skin with a cool tone. They can rock pastel, muted, and neutral tones like no one else.
Falls have the widest range of skin and hair tones. If your eyes and hair are on the darker end of the spectrum (whether you're a blonde, a redhead or a brunette) and you have warm undertones, this is you.
Now, let's figure out which shades of L'eclisse Natural Lip Gloss will look best with your "season"!
Winters, try deep, rich jewel tones like Almandine, Jasper, Coral Glow, and Pink Mica.
Springs, try soft, pale tones like Rose Quartz, Moonstone, and Pink Pearl.
Summers, pastels and neutrals like Meteorite, Diamond Shimmer, Rubedo and Bronze Shimmer work best for you.
Falls look great in rich earth tones like Bronze Shimmer, Beryl, and Garnet Glimmer.
And guess what? Our Diamond Shimmer works for everyone looking for a little extra shine.