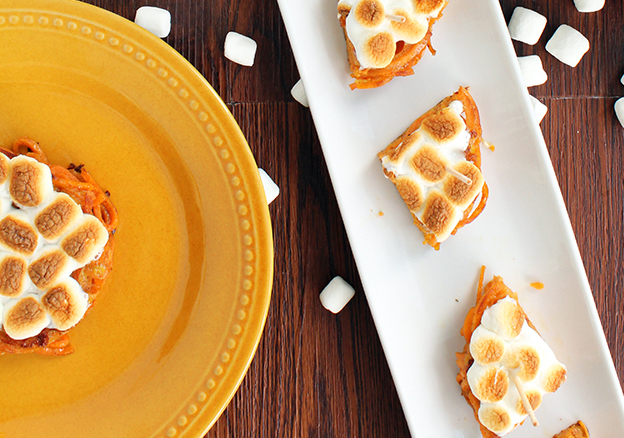 Whether you are just looking for healthier alternatives to typical Thanksgiving recipes or are a longtime vegan that wants to switch up your tried and true dishes, we have compiled a list of our favorite recipes that won't put you into a food coma.
STARTERS
1. Sun-Dried Tomato & Butternut Squash Bisque


Photo courtesy of Allyson Kramer
Cold weather calls for warm soups. This is a great starter for Thanksgiving because it introduces  fall flavors and spices, such as butternut squash, cumin, and sun-dried tomatoes.

2. Mini Sweet Potato "Casseroles" With Vegan Marshmallows


Photo courtesy of Inspiralized 
For those who have guests with a sweet tooth, this recipe is a crowdpleaser. Sweet potatoes and melted marshmallows never fail tastebuds.
3. Kale & Delicata Squash Salad with Citrus-Maple Vinaigrette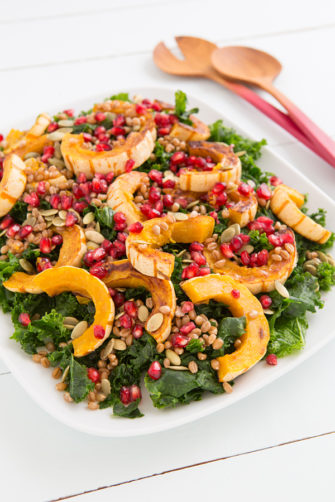 Photo courtesy of Oh My Veggies
This refreshing salad with massaged kale, roasted squash, pomegranate seeds, and wheat berries is a fantastic choice as a starter. You can also make this as a post-Thanksgiving detox as it's filled with antioxidants to cleanse your system.
MAIN COURSE

Photo courtesy of Tasty Yummies
A hearty pie filled with carrots, celery, sweet potatoes, peas, onions, and packed with flavor. Beth of Tasty Yummies also shares a gluten-free and vegan crust and gives room to substitute and change up flavors.
5. Vegan "Turkey" Roast with Stuffing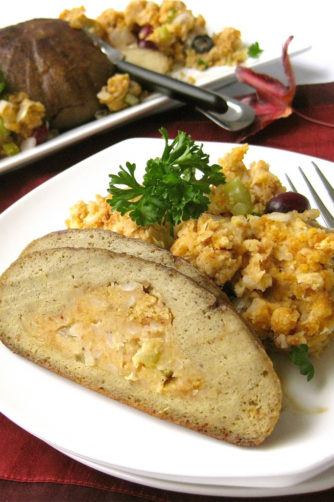 Photo courtesy of Vegan Yummies
We love this homemade tofu roast that tastes just like Tofurkey. Lindsay of Vegan Yummies also shares her vegan holiday stuffing for a delicious, meatless Thanksgiving.

SIDES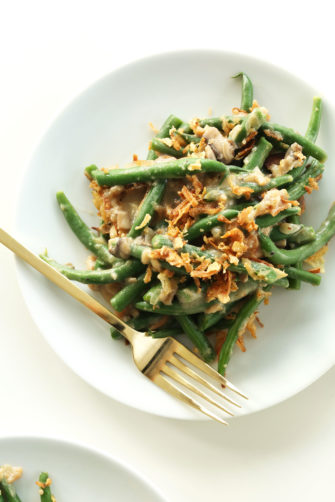 Photo courtesy of Minimalist Baker
If you're in charge of cooking this Thanksgiving, we know you have a lot on your plate, pun intended. This savory starter is not only full of flavor, but is also simple and quick to make. The magic is in the crispy onions that add a crunchy texture and salty flavor to the dish. If you have guests that are allergic to green beans, asparagus is a good substitution.
7. Maple Balsamic Brussel Sprouts

Photo courtesy of Love and Lemons
This recipe is just full of toasty goodness. The sweetness of the maple syrup balances the tanginess of balsamic vinegar, giving the Brussels sprouts a cohesive flavor. Add cranberries and pecans for a colorful and festive palette.
DESSERT & DRINKS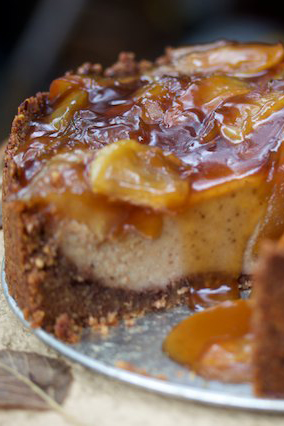 Photo courtesy of Allyson Kramer 
Upgrade your usual apple pie recipe with a cheesecake version; vegan and gluten free. With the combination of Granny Smith apples, pecans, and tofu, this is the ultimate comfort food that you won't feel guilty indulging. Be sure to chill this dessert in the fridge for at least 24 hours before serving!
9. Amaretto Cranberry Spice Cocktail
A tame and drinkable cocktail that has a bit of spice for that warm, fall feeling. Perfect for a nightcap!