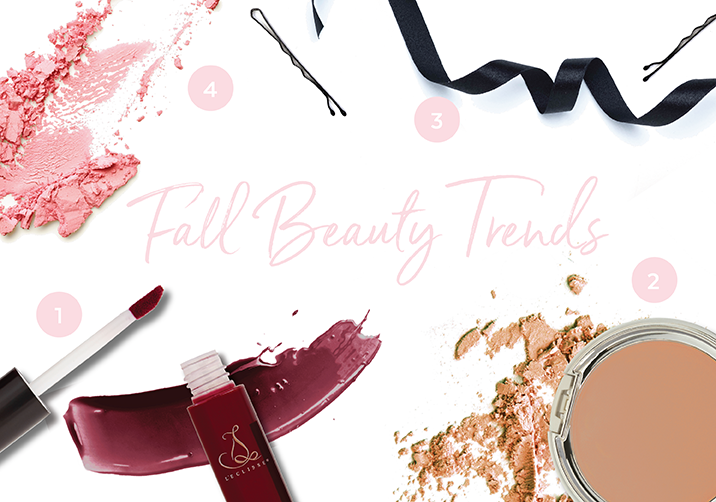 Fall beauty makes a statement. Sometimes soft and dreamy, often bold and dark, the latest trends in makeup and hair are always deeply romantic. Magazines highlight subtle, natural beauty. Meanwhile, bold beauty pops on the fall fashion catwalks. The best part is there's a look for everyone, no matter what your style.
We took a look at the trends. Here are some of our favorite looks for autumn with advice on how to get them using L'eclisse Cosmetics. After all, with crisper air and stronger winds on the way, it makes sense to choose a makeup brand formulated with the finest minerals and botanicals to soothe and rejuvenate skin in the changing temps.
Dark, Dramatic Lips
This season, embrace fall glamour with moody, vampy lips in bewitching shades of blackberry, wine, dark plum, aubergine – and even navy. For a classic look, keep application precise, or try for an edgier, just-kissed look by smearing color across the lips. Ready to wear the trend? For a dark lip that's moisturizing but never sticky, try L'eclisse Natural Lip Gloss in Jasper or Almandine.
Nudes for Everyone
Today's neutrals accentuate the full spectrum of skin tones, with palettes of peaches, pinks, beiges and browns that work for everyone. Add a subtle neutral accent to the eyes for a beautiful natural look or use bronzer as blush to sculpt your cheekbones with lightweight layers of L'eclisse Pressed Mineral Blush in Amber, or Pressed Mineral Foundation in Deep Bronze.
Color of the Season: Pastel Pink
Rosy cheeks are a fall beauty staple, but this season hues of strawberry, raspberry, rose and fuchsia are being used all over the face – including the eyes and lips. There are infinite options when it comes to this trend: layer color over luminous skin, create modern color-blocking around the eyes with pastel pink shadow, or opt for a petal-pink stain or pop of magenta color on lips. Get the look by pairing L'eclisse Pressed Mineral Blush in Pink Sapphire with Natural Lip Gloss in Beryl, Rose Quartz or Pink Mica.
Hair Trend: Black Ribbon
Fall's hottest hairstyles capture the essence of simple sophistication with a black ribbon. This season's must-have look is versatile enough to work with any hair type, length or style. Tie off a ponytail, accentuate a loose chignon, gather hair away from the face like a headband or thread it through braids to bring elegance to any occasion – from a casual night out to a formal event.