Taking care of your skin is one of the most important factors in maintaining a healthy, glowing appearance. The quality of your skin really affects how makeup applies and looks on your face. High-stress jobs, bad diet, fluctuating weather, hormones, and lack of sleep are all reasons why our skin may look dull, tired, dry, or plain blah from time to time. One way of helping your skin gain back its glow is by changing your diet. Here are some super foods to help foster amazing skin.

Photo courtesy of Leah Bergman of Freutcake
Papaya
This food has powerful enzymes, primarily vitamin A and papain. Papain eliminates dead skin cells, which is why papaya is commonly used in face scrubs and peels. Vitamin A works as an anti-oxidant and promotes cell growth, replacing the dead skin that papain sheds off and replenishing it with new skin! We love this tropical Pineapple Papaya Enzyme peel by Freutcake to help give you new healthy skin.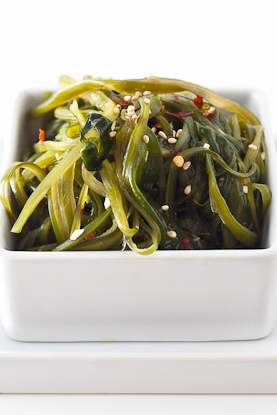 Photo courtesy of I Am a Food Blog
Seaweed
Sea vegetables like seaweed are the superfoods of the ocean. It's rich in vitamins and natural minerals and can help clear acne and any inflammation of the skin. Eating seaweed also helps tighten skin elasticity for younger and firmer looking skin. Spas use seaweed as a mask or bath, but eating seaweed can be just as equally efficient. Try this Seaweed Salad recipe at home and see if you notice a difference in your skin!
Lemon
Have you ever wondered why people put lemon in their water? Sure, it adds a refreshing citrus flavor to the bland taste of water, but lemon also acts as an aid in skin replenishment. Rich in Vitamin C and citric acid, lemon juice can be used to help brighten up the skin for a youthful glow. It also can be used as a natural lip exfoliator. Apply 2-3 drops of lemon juice on your lips before bed time for silky smooth lips in the morning and easy application of our Natural Lip Gloss. Lemon also helps reduce acne and shrink pores. The benefits of drinking lemon water are almost endless; it's great for your digestive system, which in turn helps maintain skin health. It is probably one of the most beneficial superfoods for an all-around beauty regime.
Ginger
Ginger has been used for centuries in Asia for healing and growth benefits. If you have any acne scars or ridges on your face, ginger helps diminish them with its toning and antioxidant properties. Add this to your beauty regime: Cut up a few thick slices of fresh ginger, dab them over the scar and allow the juice to dry. Do this twice a day and see if your scars have improved in a couple of weeks. This method also helps protect skin from aging by improving elasticity. Try this Ginger Face Mask to rejuvenate and repair your skin.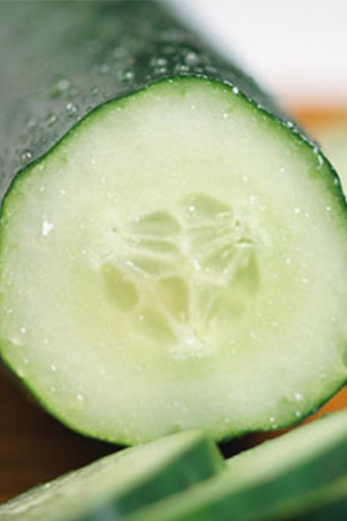 Photo courtesy of The Chalkboard 
Cucumber
Have you ever gotten a facial at a professional spa and after the esthetician applies your mask, she puts two slices of cucumbers over your eyes and leaves you for 15-20 minutes? You can just feel the cooling sensation on your eyelids as well as the calming aroma from the cucumbers. Why is that? Cucumbers are water-potent, especially when chilled, which in turn helps to hydrate the skin to reduce eye bags and calms inflammation. Mix up your skincare routine with a Cooling Cucumber Toner and enjoy smooth, soothing skin all day.

Photo courtesy of Deliciously Ella 
Chia Seeds
Chia seeds sprung to popularity in 2013 after consumers discovered a host of nutritional benefits related to skincare, digestive health, and diabetes management. Once only fed to sheep, chia seeds are now commonly mixed in oatmeal as part of a healthy breakfast. We love this Date and Chia Pudding recipe to switch up breakfast with chia seeds.