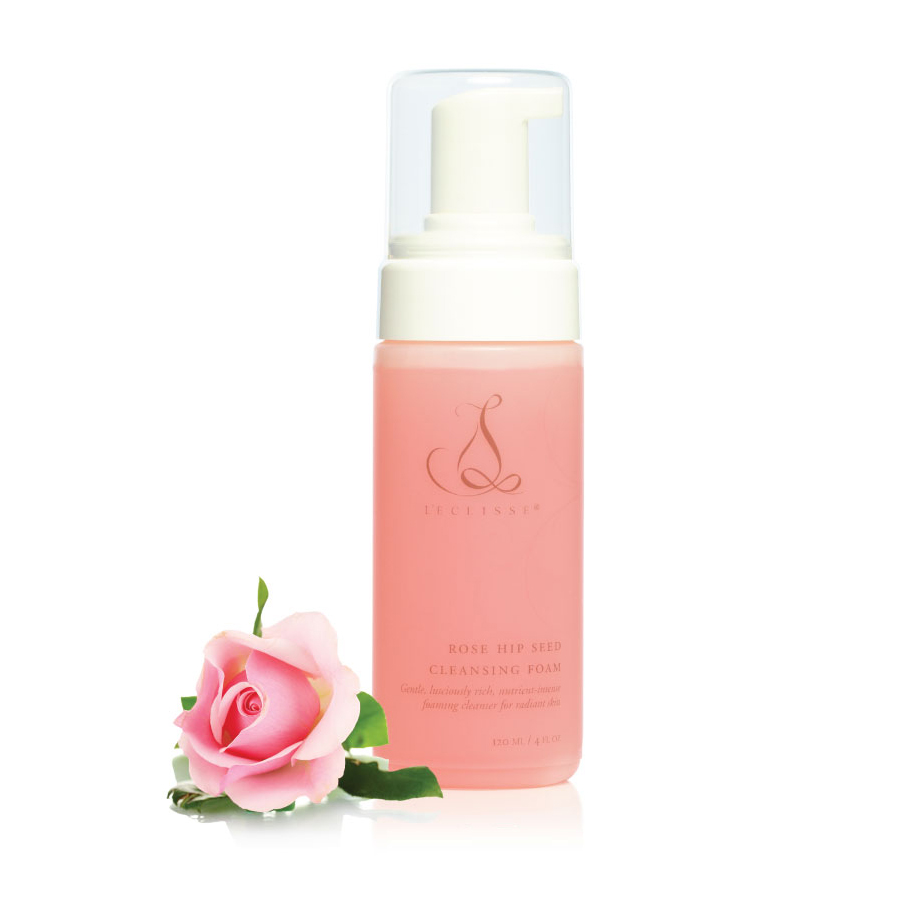 Rose Hip Cleansing Foam
This gentle foaming cleanser, rich in botanical oils, nourishes and hydrates skin as it helps neutralize the effects of aging.
High in vitamin A
Removes makeup and impurities
Out of stock
How To Use
Wet face with warm water. Lather a dime-sized amount of Rose Hip Seed Cleansing Foam in your hand.

To improve circulation, massage cleanser onto face using a circular motion, start at the chin and work upward to the cheeks, under eyes and forehead. Avoid eye area.

Rinse face with warm water to remove all cleanser. While skin is still damp, apply serum.
Product Description
Deeply nourish, protect and hydrate skin as you cleanse with this gentle, nutrient-intense foaming cleanser. A lusciously rich, nurturing blend of Rose Hip Seed Oil, Olive Oil Castile, Seaweed and Oil of Kumquat leaves skin feeling healthy, fresh and radiant. High in skin restorative vitamin A, Rose Hip Seed Oil offers potent, natural
anti-aging support.
Ingredients
[ Olive Oil ]

Rich in Vitamins A and E, olive oil helps to gently moisturize skin. It can help skin keep looking supple, young, and fresh.

[ Rose Hip Seed Oil ]

Derived from the seeds of a wild plant native to Chile, this oil is rich in essential fatty acids, antioxidants and Vitamins C and A. It hydrates skin, and can help reduce the appearance of wrinkles and scars. Rose hip seed oil can also help even skin tone.

[ Oil of Kumquat ]

Thanks to the antioxidants and Vitamins A and C found within this citrus fruit, oil of kumquat can help skin look healthier and smoother by minimizing wrinkles and sun damage.
PURIFIED WATER, OLIVE OIL CASTILE, VEGETABLE GLYCERIN, ROSE HIP SEED OIL, OIL OF KUMQUAT, SEAWEED EXTRACTS.
NO PARABENS, TRICLOSAN PHTHALATES & SULFATES

NO MINERAL OIL, ARTIFICIAL COLOR OR SYNTHETIC FRAGRANCE

NO ANIMAL TESTING

MADE IN USA